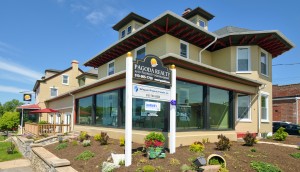 Welcome to Pagoda Realty. We are a full-service, residential and commercial real estate company located in the heart of Berks County.
Pagoda Realty is owned and operated by two partners: Craig Stringer and Dave Yeager. Our vast experience gave us the vision for something different in the Berks County Real Estate Market. We like to call ourselves a family here at Pagoda. We strive to better the individual agent because we see it as a reflection of the whole. Better agents equals better results for the client. And after all, the client is the most important thing. With over 70 agents and counting, our formula is working well. We are now the largest, independent real estate brokerage in Berks County.
We have a full service staff, utilize the latest technology, have a state of the art facility with ultimate visibility, knowledge, experience and dedication to service all or our client's needs. Whether you're looking for us to list your home, purchase a new home, give advice or just be a general real estate resource, we can help.
Contact Pagoda now and experience the difference.